Maintenance Products
At Pancar Industrial Supply we are dedicated to selling to businesses in need of maintenance supplies. Some of the items we offer include cleaning products, air fresheners, pest control spray, penetrating oil, degreaser, and hospital cleaning supplies.
Our goal is to provide reasonable prices, personal interaction, and flexibility to our clients. Pancar has the advantage of being a small business that provides affordable prices and more personal attention to our client's needs. We provide some of the most affordable prices in the industry.
Ready to order, have questions or don't see the product you need?
Click here
to submit an inquiry.
Air Fresheners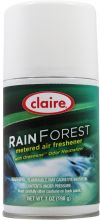 Air Freshener
Air Meter Fresheners & Deodorizers. Rain Forrest , Country Garden,Vanilla,Etc.
$69.95
Pest Control

Big Jinx III Roach & Ant Killer
This broad-spectrum insecticide combines Tetramethrin and Permethrin to kill a wide variety of crawling insects such as ants, carpenter ants, cockroaches, carpet beetles, millipedes, palmetto bugs, scorpions, silverfish, sow bugs, spiders, ticks and many other crawling insects. A pleasing cherry scent provides quick killing action and residual control up to 3 months. Simply spray the area where crawling insects are found or may hide. This insecticide will control pests for as long as three months
Cleaning Products

Claire Foaming Rug & Upholstery Cleaner
Claire Foaming Rug & Upholstery Cleaner, Releases ground-in dirt in rugs, carpets & upholstery, including velour, one can cleans a 9'x 12′ rug, do not use on silk, 20 oz. can, 12

Claire Moisture Out Penetrating Oil
A non-conductive penetrant that displaces moisture. Its deep penetration works fast while it lubricates and cleans. Frees nuts and bolts, stops and prevents corrosion. Excellent for a multitude of institutional, commercial and industrial applications.

Hospital Disinfectant Spray, Lemon
Claire Hospital Disinfectant Spray, for health care use, disinfects HIV-1(AIDS Virus), Tubercule Bacilli (TB), & Herpes Simplex Virus Types 1 & 2 on inanimate environmental surfaces, lemon fragrance, 15 oz. can, 12 per case

Natural Foaming Cleaner Degreaser
This product is formulated with a natural orange citrus solvent (d.limonene) that cleans and deodorizes most surfaces. Simply spray this foaming product on and wipe clean. It contains no chlorinated solvents, petroleum distillates or glycol ethers. The product is 99% biodegradable, non-toxic and can be used on washable, painted surfaces. Excellent for removing dirty hand prints from walls and doors, scuff marks on floors, crayon and grease spots, soot and smoke fil
Penetrating Coil Cleaner
Penetrating Coil Cleaner * Delayed foaming action * Deeper penetration * Expanding foam for flushing action * Pin-Point high pressure jet force tip * No rinsing required * Dual quat formula

Wasp and Hornet Cleaner
Wasp And Hornet Killer. Can Be Use in Wasp , Hornet And Yellow Jackets